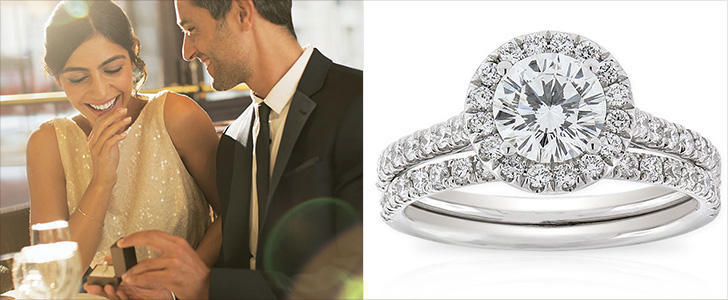 Céline van Riemsdijk explains how she and Lee got engaged . . .

My then-boyfriend and current husband, Lee, had an old college roommate Shawn (whom I had not yet met). Shawn was in San Francisco for work and had plans to take a client to go see "Wicked". A few days before, his client canceled, so we were the lucky ones who got to take the tickets off his hands. I had a hair appointment that afternoon and wasn't willing to skip it, so we opted to just eat leftovers at home rather than going out to dinner.
It was a casual night in my mind; a fun evening out before we left for vacation a few days later. As we were getting ready, Lee encouraged me to change my outfit and dress up a little. I wasn't feeling fabulous that day, but I put back my cozy top and opted for something a little more fun. We were going to the theater, after all! Sneaky, sneaky.
We had to pick up the tickets from Shawn, who was staying at the Mark Hopkins Intercontinental Hotel. It's a beautiful hotel, and I remember asking how a 26-year-old dude gets put up in such nice digs. I was full of questions that night —
Why didn't Shawn want to go with us? Why didn't he just leave the tickets at the front desk? Did we really have to go all the way up to his room when we were running late? Couldn't I just wait in the lobby and meet him some other time? I was completely clueless.
We get up to the room and Lee pulls out a room keycard, looks me in the eye and tells me we aren't going to see "Wicked". "What? Why not?" I asked. I was not pleased, having listened to the soundtrack all day in anticipation of the show. And why the heck did Lee have a key to Shawn's room? He opens the door and there are rose petals everywhere, a bottle of Champagne on ice, and a stunned girl wondering what on earth was going on. Had I forgotten our anniversary?!
I was completely taken by surprise. He didn't get down on one knee, which I still give him a hard time about, but he beautifully asked me if I would spend my life with him. I accepted, and after we called our parents and a few close friends and the shock of it all had passed, I suggested we go to Top of the Mark, a gorgeous cocktail bar on the top floor of the hotel, for a celebratory drink. We had been talking about going there ever since we moved to San Francisco and what better night than our engagement! We get in the elevator and I see two of my friends from work. Laura was acting a little strange, asking what we were doing there, and I held out my left hand to show off my new bling. At that moment, the elevator doors opened and I hear "SURPRISE!" from behind me, only to turn around and see a room full of our closest friends there to celebrate. Cue the waterworks again. I had told Lee that I wanted an engagement worthy of a good story, and he definitely went above and beyond. It was a total surprise, and the best part was we left a few days later for a trip to go visit my family in Monaco, so we got to tell them all in person.
Well done, husband, well done.
Please follow and like us: